LOOP Spray Paint 400ml Can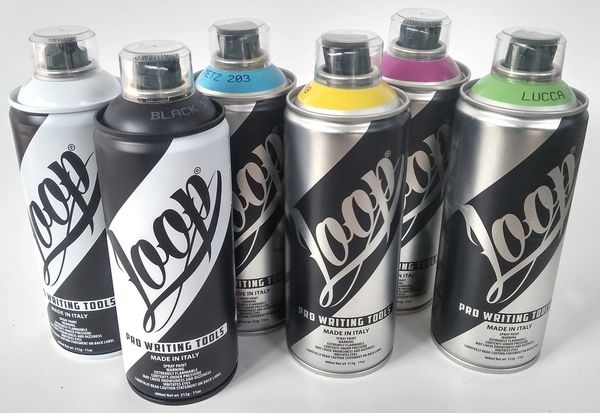 LOOP Spray Paint 400ml Can
WE PROUDLY CARRY LOOP™ SPRAY PAINT!!! REMEMBER U.S. SHIPPING IS FREE  FOR PURCHASES OF $25 OR MORE!! This paint is great, high UV resistance and goes on every surface we've tried very well, from bare concrete to slick painted steel. We've tried it in almost freezing weather and it out performed Rusto. Personally we would compare it to 94 or Belton but without the matte color changing Belton sometimes does. Pressure is higher but can be let out to spray like low pressure paints. Manufactured in Italy it is a much higher quality paint than all the Chinese paints. Below is copied about the product from Loop's website.  Just remember to shake the cans really well before use. If the color chart in the above images is too small there is a larger version on it's own page up at top of site. Please refer to that before making color selections below. 
 
LOOP™ TECHNOLOGY
The quality level of LOOP™ paints meets the highest standards, result of years of experience in the sector and research of its Laboratories, in collaboration with the most famous international "Writers". The formula of LOOP™ paints is an exclusive Corporate mix that according to users, has no equals on the market.
The Company invests over 10% of its turnover every year in Research and Development, and in improvements of production systems, to ensure products always in line with different needs and the market, and to offer products with higher performances for the most demanding and knowledgeable users and for beginners that are embracing the art of graffiti for the first time.
LOOP™ CHARACTERISTICS
*COLOUR RANGE: Over 170 colours thought and selected to offer the most complete range of shades to satisfy the most demanding artists
*HIGH COVERAGE: The product is formulated with a high content of solids, to allow quick coverage of any type of surface.
*ADHERENCE: Perfect adherence on all types of surfaces generally used by "Writers"
*COMPATIBILITY: Utmost compatibility with most paints available on the market
*DRYING: It dries quickly also in the presence of humidity
*VERSATILITY: Product that can be used all year-round. Applied at -10°C, it did not present any issue in terms of functionality, application, alteration of the paint film, loss of coverage or opacity. Applied at considerable thicknesses, it does not present dripping or cracking phenomena.
*SPECIAL VALVE: Valve specifically studied for this type of products, which allows supplying paint in a constant, adjustable and accurate manner. The special valve combined to the high-solid paint formula allows to supply a "soft", slightly nebulized spray, ensuring precision works and avoiding excessive product dispersions in the air.
*COLOUR REFERENCE: The colour reference is extremely important for Writers, with regards to the choice of tones and use when executing the work. For this reason, a system was conceived that could faithfully reproduce the colour of the product contained inside the bottle. The pad printing carried out on the dome applies the paint directly ensuring utmost colour accuracy.